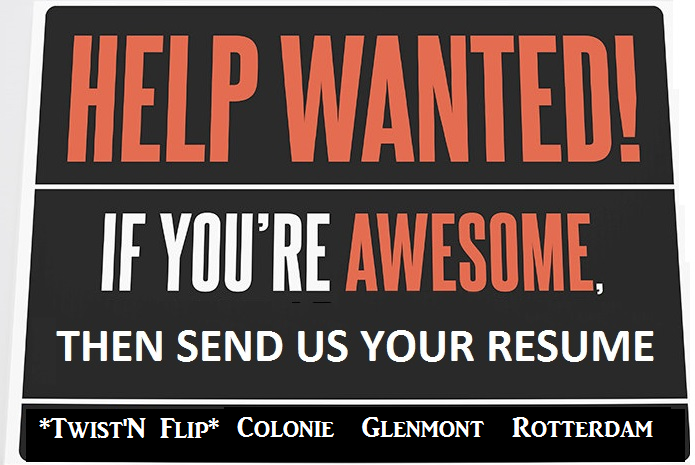 Gymnastics Teaching Positions
We are continuously looking for AMAZING instructors.  If you think you have what it takes to make it onto the Twist'N Flip team, send us your resume (but please, read everything below first!).  Basic gymnastics knowledge and a love for working with children required!  We provide lots of training, but you have to bring a high level of enthusiasm with you each and every day.  If you are overflowing with energy and understand the reward of working with children, let us know today.  Teaching hours are typically Mon-Fri 3:30-8:00, Sat 9:00-8:00.
Other positions
Occasionally, we are hiring for various other positions.  If you are truly amazing and have a desire to bring awesomeness to our team, please contact us.  Other positions we have hired for are front desk, dance teachers, birthday party specialists, and preschool programs.
You:
Enjoy the gratification of helping children learn something new.
Radiate enthusiasm.
Go above and beyond what is expected.
Care more about doing the job well than clocking out on time.
Like to learn new things.
We:
Like to try new ideas.
Get a lot done because we realize every member of our team brings unique talent and strengths.
Care about your ethics, values, and intelligence more than your experience.
Really believe what we do makes a difference in the lives of children.
Believe training is a life-long process.
Work without shoes!
If you have the core values we are looking for; integrity, confidence, and a drive to excellence, then read on.  If your friends describe you as trustworthy, energetic, and always happy, we want you on our team.  If you want to work where your contributions make a difference, then get your resume ready.