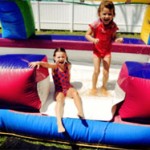 At Twist'N Flip, our slogan is "Doing good things for kids." We tirelessly innovate, evolve, and challenge ourselves to put forth the absolute best programs on the planet.
You may have noticed links for a survey in several locations on our site. We want your honest feedback. All surveys are anonymous. Responses go directly to management, who will not only read, but react to your comments.
While we have gyms in Colonie, Slingerlands, and Rotterdam, we actually serve the entire Capital Region. We don't take that for granted and will stop at nothing to ensure the best possible experience for your children.
Your voice will be heard! We're ready to listen!