What to know before your first gymnastics class: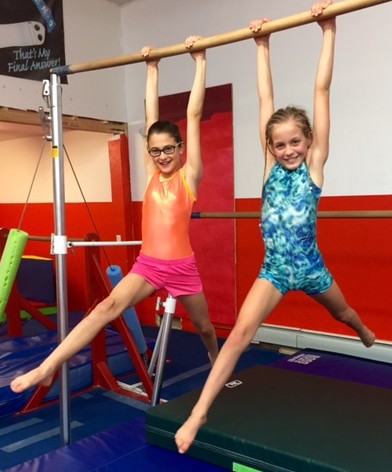 1. Please provide your child with a water bottle.  We do NOT have a water fountain at our location.  We do have a vending machine that dispenses cold water bottles for $1.  Please make sure your child's first and last name is clearly written on his or her water bottle so it will not be mistaken for another child's.
2. Gymnasts should come to gymnastics with their hair securely tied back.  This is mandatory for all students and staff in order to maintain the safety and well-being of all participants.  
3. Female gymnasts should wear a leotard to class.  Male gymnasts should wear athletic attire that is snug.  Loose clothing or any type can be hazardous to the gymnast and will often hinder his or her ability to participate in certain activities.  All students must have bare feet.  No jewelry is allowed.  
4. No gum, candy, or food is permitted on the gym floor (including the red carpet warm up area).
5. During our prime hours (evening especially), space inside our facility can become limited.  Gymnasts ages 5 and above are allowed to be dropped off with proper permissions/acknowledgment from staff. If you choose not to stay in the facility during your child's class, please check with the front desk so we can make sure we have all of the necessary information.  You may also need to sign a separate form.
6. No child, student or non-student, is to be left unattended at any point.  When coaches are finishing their current set of classes, students then waiting for the next set are required to sit in the common area in a seat until they are called for their class to begin stretch.  Children not participating in a class are required to wait in the common area and are never permitted on the gym floor/equipment; this includes playing on the red carpet in our front area.  We ask that all spectators and family members remain in either the balcony or in the common area creating minimal noise and or distractions for working gymnasts.  We have many students of all ages who are learning and practicing intricate skills that require total focus, and any outside distractions might cause those students to harm themselves.