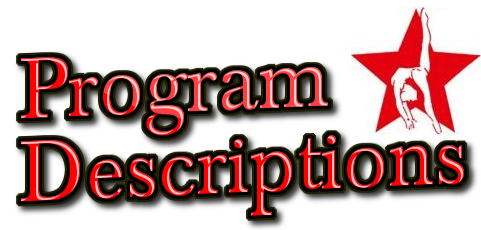 Detailed descriptions of all the programs offered at our Colonie gymnastics center are below. If you'd like to register, you can do so online or over the phone. Our schedule can be found on the Colonie section of our website. Also, our Membership Policy page contains a wealth of information, such as what to wear to class, etc. We have an awesome staff here, so if you have any questions, please give us a call or send us an email.
Tiny Tumblers (Parent and Child), Walking - 3
Program Overview: This program is a great time with your little one! In addition to spending some quality time in a setting outside the home, you will be helping your child to learn the very basics of gymnastics! Arranged in an obstacle course format, each station will be a drill or skill that will help your child develop gross motor skills, practice basic gymnastics components and ideas, and just plain be lots of fun!
Specific Program Goals:
Create an opportunity to spend quality time with your toddler!
Develop gross motor skills.
Acclimate young students to our program (stations, circuit training, etc…)
Learn the basics of safety in the gym.
Introduce basic gymnastics skills, body positions, and poses.
Prepare students to attend class independently.
---

Preschool Program 1, Ages 3-4
Program Overview: Our Preschool Program, Ages 3-4 is designed to help our 3 and 4 year olds to make the switch from Tiny Tumblers (Parents and Child) into an independent class. The class is set up and run almost identical to a parent and child class with one BIG difference; no Mom (or Dad)! We use the same age appropriate lesson plans to introduce and build on gymnastics skills while making the learning experience fun.
Specific Program Goals:
Assist students in making the transition from a Parent and Child Class to an independent class.
Use the basics of gymnastics to enhance the student's balance, coordination, and agility.
Build self-confidence in the students.
Continue to introduce and develop social skills i.e. sharing, waiting their turn, and cooperative games.
Achieve all this in a safe, fun, and positive environment!
Prerequisite: Child must have attended our Tiny Tumbler (Parents and Child) class or be at least 40 months old.
---

Preschool Program 2, Ages 4-5
Program Overview:Our Preschool Program, Ages 4-5 are designed to help prepare students for our School Age program. Each week has unique lesson plans in which we base the lessons on a basic skill (i.e. forward rolls, cartwheels, handstands, ...and the list goes on). Then we build on this basic skill with lots of fun drills and skill stations. Lesson plans cater to developing the children's knowledge on how to safely go about performing each skill starting with the very basic parts of each skill. Students then build on these basics through our use of progressions (walk before you run). Built into these circuits are stations for strength, flexibility, coordination, and balance.
Specific Program Goals:
Increase self-confidence and gymnastics abilities.
Help students overcome fears.
Challenge with a healthy dose of achievement.
Increase flexibility, coordination, and strength .
Have students following and recognizing rules on their own.
Enriching interpersonal skills, including communication and respect with classmates their own age, as well as their coaching mentors.
Prerequisite: A desire to be challenged and to have fun!
---

School Age Program, Ages 5.5 and Up
Program Overview: Our School Age program is designed to introduce and build on the basics of gymnastics. Each week has a unique lesson plan designed to introduce and/or develop a specific skill or skill set (most popular is handstand week!). Our amazing instructors then use their creativity and enthusiasm to customize these lesson plans to each individual student! Safety and fun are our first priority, as the students practice and then master the basic skills. These classes are one hour long, and our student to teacher ratio is an amazing 7 to 1.
*Level 1: Intended for those gymnasts just starting out. Once the basics are mastered, it's on to the next level.
*Level 2: Moving up to the next level is accomplished by completing the achievements necessary to move up, this is done by evaluation. Students will progress at their own pace through the levels. No matter which level your child is at, we are on a mission to use the basics of gymnastics to build stronger, Similarly, students may eventually progress into our Level 3 program.
*Level 3: Classes are 90 minutes and much more challenging than the Level 1 and 2 classes. Students must be evaluated to get into the Level 3 class.
Specific Program Goals:
Develop the basic skills for each of the events of gymnastics; Floor Exercise, Uneven Bars, Balance Beam and Vault.
Increase total body strength, including endurance and stamina.
Enhance flexibility, balance, and coordination.
Challenge each student to do more than they think they can.
Prepare students to be able to progress into the intermediate level classes.
Achieve all this in a safe, fun, and positive environment!
---

Giants Stars, Ages 9 and Up
Program Overview: A class designed specifically for gymnasts over age 9 at any level. Each class, the students will spend time at each of the gymnastics events including uneven bars, balance beam, floor exercise, and of course the trampoline. Our program is designed on a year-long set of skill building progressions that are broken up each week into specific lesson plans. Every skill is introduced, practiced, and repeated in a safe and fun atmosphere. We will set up age appropriate circuits to develop the student's ability to perform each skill, starting with the very basics and progressing to more complex. Built into these circuits will be stations to build strength, flexibility, coordination, and balance. And of course no students under age 9!
---

Tumbling
Program Overview: Designed for our cheerleaders and other students wanting to focus on the floor tumbling exercises! Our instructors will guide students from the basics of tumbling toward each student's individual goals. These classes will spend LOTS of time using all the gymnastics apparatus to increase their strength, flexibility, and balance to better prepare them to progress through their progressions.
Specific Program Goals:
Develop strength in the students. Stronger students learn quicker!
Work toward each student's individual goals.
Provide a safe, fun environment to consistently challenge these students.
---

Become An Action Hero
Class Overview: This class will be taught by Coach Joe, a professional stuntman who has worked on numerous TV shows. Combining basic tumbling, martial arts, break falls, and acting, he will coach the kids to be just like their favorite superheroes and movie action stars! The last week of every month we will put together a short scene combining what we have learned and then film it for the students to view. This class is ages 7+
---

Drop-In Class
Class Overview: This class is for any child ages 6+ who would like to drop in for an extra class on any given week.  The price is $10 per class and is paid when you arrive.  This can also be used as a makeup class.  This is a great opportunity for anyone looking to get in some extra practice time without committing to an additional class each week!
Class Notes:
You can bring a friend, even if they're not enrolled in TNF for only $5!
This is a drop-in class, and as such, the students and instructors will vary each week.
---

Ninja Program
Program Overview: This program is for all the high energy boys and girls. For more information on our popular Ninja Program, head on over to our Ninja page.