There is *always* something fun and educational happening at Twist'N Flip. If you'd like to register, please do so below. And as always, if you have any questions, no matter how big or small, please head over to our contact page.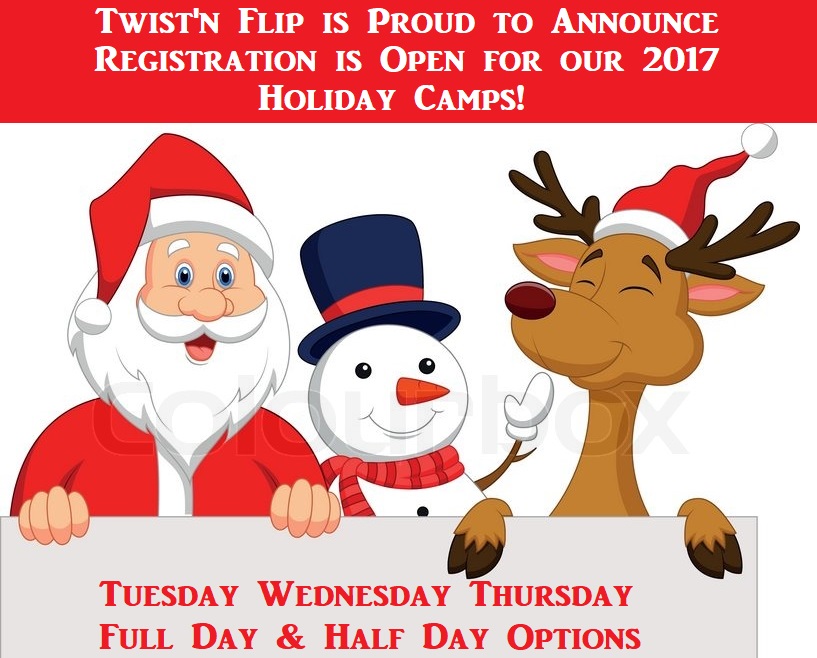 We realize the Holidays are this amazing blend of family, celebration, exhaustion, stress, love, and everything in between. We're here for you when school's out. Your kids will traverse a challenging, new obstacle course each morning, a gymnastic lesson including floor, bars and beam, super-fun games, crafts and activities...and even a pizza lunch!  All while you enjoy some much needed peace and quiet, or go to work without the worry.
There is a 20% sibling discount. Register now!

Clinics are held throughout the year, all of which focus on gymnasts mastering a specific skill, or set of skills: back handspring, front walkover, bars, etc.   
Day Camps are typically held during the school year when classes are not in session, such as holiday break, winter break, etc. We offer a mix of gymnastics, crafts, and games. Management and instructors carefully plan activities that will engage your children in a fun, productive environment. Since pretty much everyone in the Twist'N Flip organization is a child at heart, we do a pretty good job of making our Day Camps awesome for all involved.