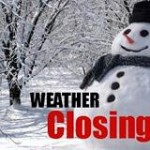 It has been quite the winter here in the Capital Region.
Our closing policy is clearly outlined within each gym's page on this site. We also update each gym's Facebook with closing information. You do not need a Facebook account to view the notifications. You can navigate to your gym's Facebook by visiting your gym page. We have a little snippet there on the right, from which you can also click to the entire Facebook site.
We're one big family here at Twist'N Flip, and we want everyone to be safe. This harsh winter has us dreaming of sand and palm trees.
Thank you everyone!